Many who watched Frontline's The United States of Secrets (May 13 and 20, 2014 on PBS) did so wanting to learn what happened before Edward Snowden's massive disclosure of documents about the warrantless surveillance of American citizens. It was certainly the promised backstory—the bits and pieces gathered over the years and now stitched back together—that made me want to watch. But even more than the story itself, I was repeatedly overtaken by some of the characters in it. There are Shakespeare plays have had less courage, duplicity, guilelessness, arrogance and decency on display.
You can watch and judge for yourself.
When you do, keep an eye on 3 characters in particular, all of whom will interrupt the sidelong glance you'd usually cast in the direction of government bureaucrats:
Diane Roark, long-time staff member of the House Intelligence Committee;
Thomas Tamm, attorney and Justice Department liaison to the Foreign Intelligence Surveillance Court; and
Senior National Security Agency manager Robert Drake.
On a stage filled with dissemblers, careerists, and preening journalists, it is hard to take your eyes off of them. However you view opponents of our government's surveillance programs, there can be no argument that each of these individuals risked their jobs, along with the quality of their future lives, to stand up for what they believed in the face of terrible odds.
Truly terrible odds.
Prevention of another 9-11 is what propelled the US reaction (or over-reaction) in the ensuing years. After more than a decade with no major terrorist incident on our soil, it is easy—much too easy—to discount the concerns that we all had much closer to that terrible day about the reasonable costs of our personal safety in a free and open society. Indeed, the courage in this documentary is directly proportionate to a threat we could all barely fathom on 9-12, and in the weeks, months and years that followed. The question could not be more important. What should you do (and those we rely on to protect us) do or not do, when caught up in the grip of fear?
By saying that the U.S. could not break its own laws to confront this threat, Roark, Tamm and Drake each challenged those they worked with in the government, as well as everyone in their chains of command (like vice-president Cheney) who were convinced that the fate of the nation would be undermined by their dissent. In order to do their jobs, these individuals were not only prepared to lose them, but also to be accused of having "blood on their hands" if their quibbling about legalities and moralities opened a fatal breach in the new "safety net" that was soon being assembled around us.
What they personally risked was like the excommunication that a former teacher of mine was threatened with when she encouraged a new dialogue within the Church about the nature of love; when she was told, in essence, "you cannot write about these things and be part of us anymore." But being seen as "a Heretic," "a Traitor" or "a Potential Murderer" didn't stop (perhaps couldn't stop) any of them, because they were not overtaken by their fears. Something even more basic and bedrock than that was involved, for better or worse.
You can catch a glimpse of these basic building blocks in Roark, Tamm and Drake. Because it is hard to speak from your conscience and easy to stay silent and go along, it can always be instructive to look in the faces of fairly ordinary and usually invisible people when they have simply refused to yield to larger forces.
My personal hope is that I can see in them something of my better self too.
Individuals who are working at the top of their games often learn about things that are far above their pay grades. Diane Roark was one of them, and in the immediate wake of 9/11 she started hearing about NSA surveillance of American citizens conducted without judicial sanction (that is, after a warrant arguing probable cause had been submitted and approved). She knew this was illegal, and began an impassioned harangue of her Congressional bosses. She argued with them. She documented what she kept learning and peppered them with memos. People connected to the government kept talking to her, because they were concerned too.
What Roark didn't know was that the White House was also briefing her bosses on the House Intelligence Committee. She didn't know that once these Congressional leaders were told about the new surveillance, how many of them felt that they could no longer exercise oversight, because the specter of having "blood on their hands" effectively silenced them.
Because Roark was unaware of this, she kept trying to convince her Committee members and, in an expression of frustration, was finally told to take her suspicions up with General Michael Hayden, who ran the NSA. Her bosses knew it was a dead-end, but the evasive answers she received and the assurance she finally got of authorization "from the top" made her more concerned than ever. She redoubled her efforts to convince somebody, anybody, that this program was "unethical, immoral, politically stupid, illegal and unconstitutional." That was her job, after all. You can still hear the disbelief in her voice that the government she was working so hard to serve was acting in this manner. Roark resigned in frustration a year after 9/11, having dared to raise her voice, both loudly and clearly, when our leader's fears were at their highest.
Thomas Tamm was the Justice Department attorney who submitted requests for warrants made by federal investigators to the special court charged with either authorizing or rejecting the surveillance of American citizens suspected of terrorism. In other words, he was literally one of the lynchpins in the pre-9/11 safeguards that had been established to protect citizens from being monitored by their government without probable cause.
Tamm came from a family of law enforcement professionals. His father and grandfather both held senior positions at the FBI. Like Roark, Tamm also started hearing about surveillance reports that were not tied to any standing warrant.
His immediate superior was repeatedly unresponsive when he raised his concerns with her (although she talked about probable illegality in a telling aside). Months passed and he went "outside his chain" to a Congressional staffer involved in government oversight but was stonewalled again. It was clear that the government was going around the job he was trying to do with a secret and unauthorized program. Unable to get any kind of response to his concerns from within the government, in a fateful move Tamm called a reporter covering post-9/11 security issues at the New York Times before, in the words of the narrator "disappear[ing] back into the bureaucracy."
Angry about leaks to the press, Vice President Cheney's office started a "manhunt for leakers" during this time, an initiative that continued under President Obama (despite assurances while he was campaigning that there will be "no more ignoring of the law when it is inconvenient on my watch"). His home as well as Roark's were ultimately raided by the FBI, and both had their documents as well as computers seized. Both left their government jobs and endured years of uncertainty (and in Tamm's case depression) facing possible arrest, although neither ultimately was. In the documentary, Tamm's quiet sadness about these events is easily as compelling as Roark's agitation.
Senior NSA manager Robert Drake was also alarmed when he started to suspect that his own agency was conducting warrantless surveillance. It was his job to find existing capabilities within the NSA that could be mobilized post-9/11.
The National Security Agency was chartered after World War II to ensure that there were no more surprises like Pearl Harbor, so it was not surprising that it had developed a program called "Thin Thread" that could eavesdrop on every American's electronic communications, but with the built-in privacy protections mandated by law. (All personal data that the program captured was encrypted until a judge deemed that it could be read upon presentation of a warrant.) When Drake told his superiors about Thin Thread, he was surprised when they told him they were "going with another program." He soon discovered that the other program was essentially Thin Thread without the legal safeguards.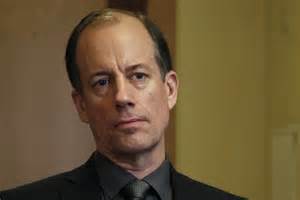 If possible, Drake was even more dogged than Roark or Tamm in his efforts to convince his superiors to stop the warrantless surveillance. Unlike them however, as he continued to raise concerns his job duties were taken out from under him. He bypassed his chain of command and wrote directly to General Keith Alexander, by then the head of the NSA, that the warrantless surveillance program was "out of control" and needed to be "reigned in." In the meantime, his worst fears were being confirmed by the New York Times' reporting.
For 4 years, the stonewalling continued and his frustration festered. Drake ultimately reached out to a reporter at the Baltimore Sun. Before long he too was caught in the same dragnet for leakers as the others. When the FBI raided his home, for hours all they wanted to talk about with him was the press reports, and all he talked about in return was how law enforcement should be pursuing lawbreakers elsewhere in the government.
Prosecutors decided to make an example out of Drake, indicting him in 2010 under the Espionage Act because he allegedly had classified documents in his home. He exhausted his financial resources on his defense. After repeatedly threatening him to plead guilty, his attorneys successfully argued that the documents in question had previously been made public by the government itself. On the eve of his trial, all serious charges were dropped. Drake was required to pay a $25 fine for misuse of his government computer.
Roark, Tamm and Drake raised concerns about warrantless surveillance and assumed the attendant risks because the proper handling of intelligence gathering was at the core of their jobs. It was their business to know what was legal and illegal, and unlike most others in the government, they raised their voices and never bowed before the strenuous efforts that were made to stop them from doing so.
Whether they deserved what their principled tenacity brought them or suffered in vain is not for me to decide. On the other hand, when your work—your very job description—brings you knowledge of wrongdoing, you essentially have two choices: to raise your voice and assume the risks, or to remain silent and go along. The morality play that is The United States of Secrets is really about some of the ordinary characters who made the more extraordinary of these two choices.